Sup

Sup is a console-based email client for people with a lot of email.
Note: Sup is currently un-maintained. Please see this discussion. The notmuch mail project and its associated clients were inspired by sup and are actively maintained and developed.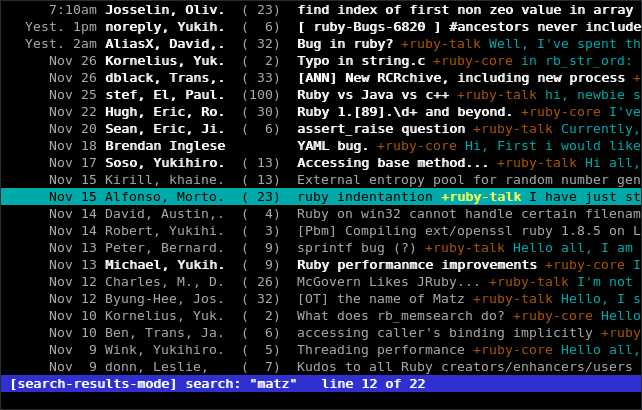 Installation
Features / Problems

Features:
GMail-like thread-centered archiving, tagging and muting
Blazing fast full-text search with a rich query language
Multiple accounts - pick the right one when sending mail
Automatically tracking recent contacts
Current limitations:
Sup does in general not play nicely with other mail clients, not all changes can be synced back to the mail source. Refer to Maildir Syncback in the wiki for this recently included feature. Maildir Syncback allows you to sync back flag changes in messages and to write messages to maildir sources.

Unix-centrism in MIME attachment handling and in sendmail invocation.
Problems

Please report bugs to the Github issue tracker.
Links
License
Copyright (c) 2013       Sup developers.
Copyright (c) 2006--2009 William Morgan.

This program is free software; you can redistribute it and/or
modify it under the terms of the GNU General Public License
as published by the Free Software Foundation; either version 2
of the License, or (at your option) any later version.

This program is distributed in the hope that it will be useful,
but WITHOUT ANY WARRANTY; without even the implied warranty of
MERCHANTABILITY or FITNESS FOR A PARTICULAR PURPOSE.  See the
GNU General Public License for more details.

You should have received a copy of the GNU General Public License
along with this program; if not, write to the Free Software
Foundation, Inc., 51 Franklin Street, Fifth Floor, Boston, MA
02110-1301, USA.